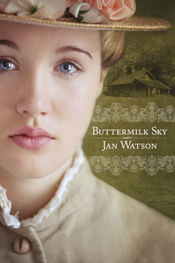 I'm pleased to introduce Buttermilk Sky for your reading enjoyment. You may remember Mazy Pelfrey from Tattler's Branch, she's Lilly's sister and couldn't be more different from Lilly. While Lilly Still M.D. is studious and serious, tender-hearted Mazy is all about enjoying life and having fun.
The book is available from your favorite bookstore as well as online retailers.
Please vistit the books page for a desciption and a download of the first chapter.
******* Limited Time Offer*********
Friends-
Tyndale is offering a special promotion on my newest title Buttermilk Sky eReader edition. It is priced $2.99 and the promotion runs December 7th through the 13th.
You can get the special price at the Amazon link below. It is also available at Barnes & Noble, Apple and ChristianBook.com.
Blessings, Jan
Buttermilk Sky – Kindle edition by Jan Watson. Religion & Spirituality Kindle eBooks @ Amazon.com.